CATIA and Siemens NX are both powerful computer-aided design (CAD) software programs used in the engineering and manufacturing industries. Both programs offer a wide range of tools for creating 3D models and performing simulations, but there are some key differences between the two.
CATIA, developed by Dassault Systems, is known for its wide range of tools and its ability to handle complex design challenges. It is often used in the aerospace and automotive industries, as well as in other fields that require precision and accuracy. Siemens NX, on the other hand, is known for its powerful simulation capabilities and its ability to integrate with other Siemens products. It is often used in the manufacturing and industrial design industries.
High End CAD Software
Take the example of a passenger's bus. It has more than 25000 components that are different and complex in design. If a coach has so many parts, how many does an airplane or ship has? Undoubtedly, it will require the maximum collaboration of efforts to achieve high-quality components. In that context, manufacturers need a high-end CAD-like CATIA & Siemens NX.
Wide integration Features
Both software provide the wide array of design tools & features to do anything,that think of in shortest time within the software without going for another program or add-ins. Which mean having CAD, CAE & CAM in same platform make the software robust, that, there is no data losses during the transfer in between, CAD/CAE/CAM. Some of the features/function available in high end CAD software, will never use or require for average user or general designing tasks. Moreover, the two software are open end programs, that provide a window for IT technicians or designer to customize the tools, design solutions depending on a company's preferences or personal thinking.
More depth control solid modeling tools

More capable tools in developing precise & handling surface design, even A-Class surfaces and freeform surface continuity design as designer possible imagine (with mid range CAD packages like SolidWorks, SolidEdge, Inventor,..  it's always difficult in surface designing & handling what you imaging)

Reverse engineering design capability with 3d scan data and large tools set for reverse design

CAM Program tools, that can used for any type of CNC machines, and open end/custom setting to develop CAM setup for customize machining that can develop

In depth analytic & simulation capability & tools to do

Depth in tool or interface withing the same software for different specific design task like mold design, progressive die design, sheet metal design.

Powerful in handling large assembly

More powerful PLM integration to collaborate with, design teams, experts, suppliers & product data management professionals.
Assembly size
Every software has its performance ceiling. If you have large components to make or a more significant component to assemble, it would be best to use high-end software instead of a mid-range CAD program. In other words, SolidWorks, SolidEdge, Inventor,…, when the assembly size/component become large, it's getting lag quite handling the large assembly models.Therefore, if you want better results, it's better to use the best program in existence.
CATIA, CAD system is a world-leading software suite comprising of CAD/CAE & CAM. This program use almost all aerospace engineering industry (Boeign, AirBus,..) and automotive industrial companies as well as other engineering designing applications.  With this package, you can conceptualize the design and model the design using CAD, and  manufacture the product using CAM. Consequently, you can analyze the product using CAE.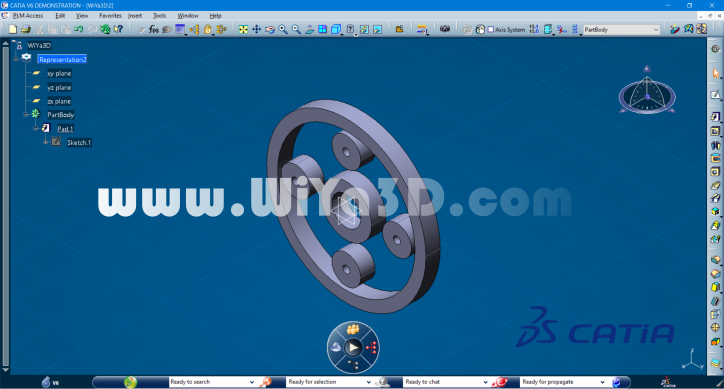 CATIA , well known to be powerful surface modeling tool. Which capable in modeling & handling complex surfaces and provide the full control over surface modeling. A class surfacing & freeform surface modeling technique make the CATIA lead in some aspect. However the user interface will not be user friendly as begin & for beginners, until get to know the software little.
Whether you have a small, medium, or large business, CATIA provides tailor-made solutions based on a company's preferences. If you want to achieve a competitive advantage, consider having this suite.
If you need better products than you did before under a shorter period and efficiently, Siemens NX is an excellent choice. Undoubtedly, this program supports all features of product development since it's an integration of CAD/CAM/CAE.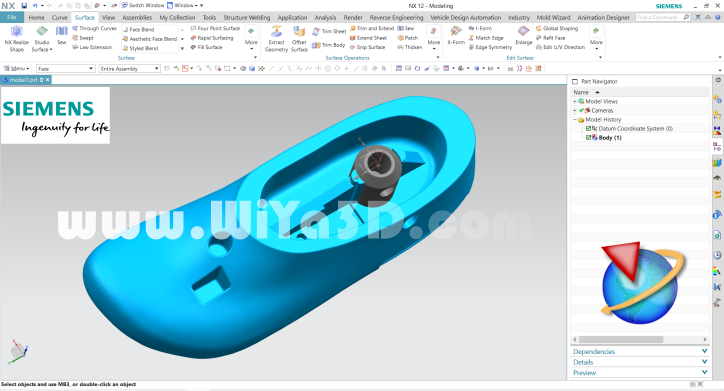 It's a fast and powerful tool that promotes speedier production of goods, thus helping you to sell your items sooner. You can also use the software to program CNC machining, manage robotic cells, and monitor the quality of the product been produced. NX powerful surface modeling tools allow the work with 3d scan data and used as reverse engineering design software. Furthermore, surfacing with Siemens NX, give you cleaner surface models with tolerance controlling and developing A Class & Freeform surfaces, that has never existed before in design with designer imagination.
NX has a wide range of functionality such that you can perform simple programming tasks to multi-axis machining. The program is applicable in aerospace, shipbuilding, automotive, and other innovative industries.
Conclusion 
The manufacturing and engineering industry is a complex industry. Engineers, therefore, have to choose the best program to aid them in making products if a company has to remain competitive. CATIA & Siemens NX are best engineering software suit for high end product application development. Undoubtedly , complex design done with CATIA, also done with Siemens NX or the other way. But they use different approach and tools to do so.
While CATIA more focus on creativity design, it's allow more creativity with it's powerful surface tools to attain creative organic design. On the other hand Siemens NX also has the powerful surface tools to create more cleaner surface with creativity and surface module for reverse engineering design task working with 3d scan data. But, NX more focus the product development process, reduce the product life cycle time and it's has powerful simulation, CFD analysis module as well.
Ultimately, the choice between CATIA and Siemens NX will depend on the specific needs and preferences of the user. Both programs are powerful and capable of handling complex design challenges, but the right choice will depend on the specific requirements of the project and the user's experience and expertise.