Today most industrial product development more focusing on design parts/model with more functionality & optimal design rather than focusing on simple basic shapes. Therefore most optimal design come with more complex shapes of parts within given material, strength, loading/constrain, special locational design assembly requirements, manufacturing & less possible material/weight.
Topology Optimization
Once initial design completed mainly for strength, functional, performance & assembly constraint requirement. The design engineer can use topology optimization, which is computerized mathematical procedure to optimize the material distribution of the model part. Topology optimization change the material layout algorithmically of the design part to almost organic shapes, that cannot archive with general design method. This changes done by setting up target or predefined part material, target strength, loading condition and other manufacturing & assembly constrain. The program provide Topology Optimize model basically removing unnecessary material within the given condition.
Currently topology optimization is in concept product development stage and manufacturing these parts are more challenging and impossible with their complex organic shapes with internal lattice structure, in traditional manufacturing methods. Therefore additive manufacturing methods are used to produced the topology optimized parts.
Following are CAD/CAE software packages, that provide Topology Optimization module or Add-In to users
Generative Design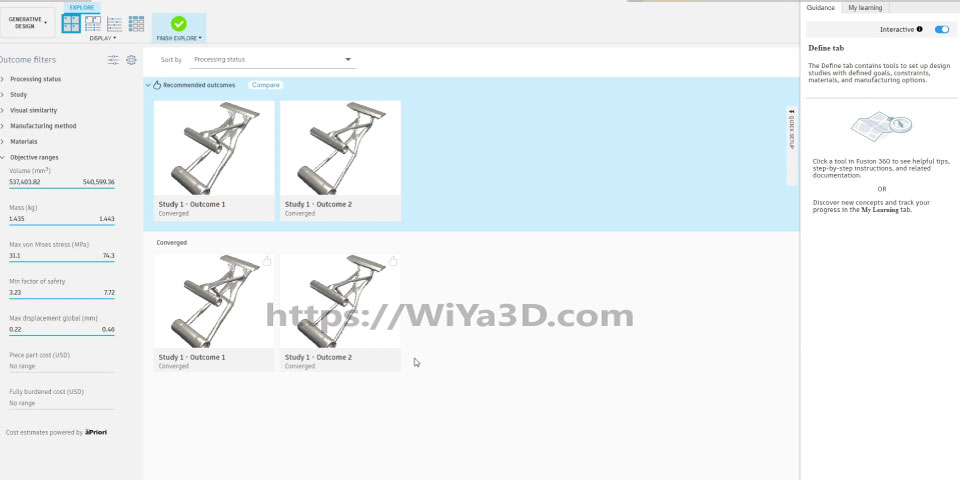 In Generative Design, the design done by generating number of optimal design output based on constrain (part materials, strength, loading, manufacturing & assembly constrain) through computational program. The generated models more or less same as topology optimize part with complex geometrical & internal lattice details. This is iterative process and designer can select one generated design at a time. Then it can be fine tune for target strength, material weight & with different material setup until requirement satisfied in design engineering context.
Generative Design vs Topology Optimization
Mainly in generative design doesn't need to have designer involvement in initial design model preparation. But in topology optimization computer program generate the optimal design by removing material from existing design within given constrain. On the other-hand generative design designer provide the part model requirement initially and computer program generate the number of model parts to fulfil given condition with different material configuration, rather than removing material from initial designed part that do in topology optimization.