3D Modeling software evolving the technological advancement with, product design, visual effect in movie, TV, commercial videos & video gaming development. Why, because right 3D modeling & 3D animation software help to create more advance model as start in projected time with better quality. However, software itself doesn't provide 3D model right, that need to have somewhat 3D artist skill/talent for the designer/3d artist to develop outstanding perfect 3D model from the correct software. That is one reason of having developed or available different 3D modeling & animation software in the market. And different application, 3d artist, designers, company use different 3D modeling software with it's own strengths & work flow of making design as expected.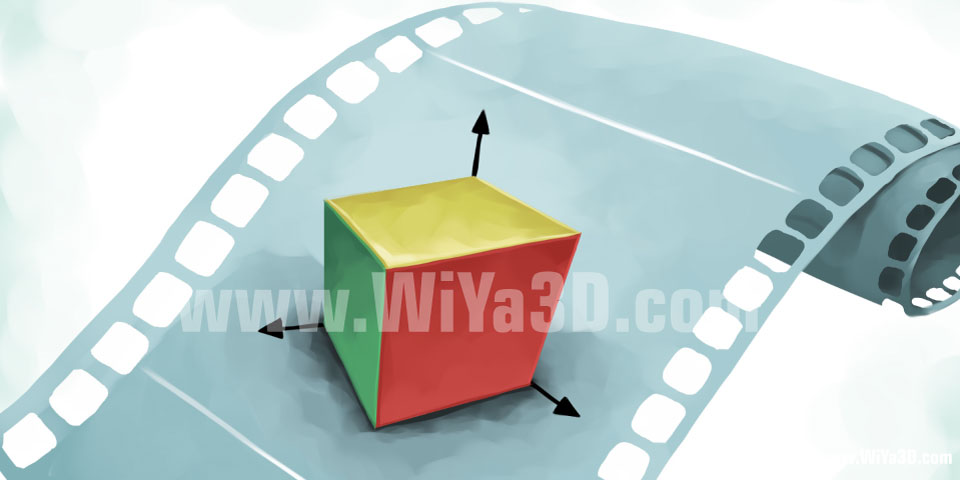 Top 3D Modeling & 3D Animation Software
Autodesk MAYA is industrial widely using software for 3D modeling, 3D animation & specially for visual effects (VFX). Although, it's great & powerful system for game development and rendering. There are wide range of tools & features available within the MAYA to enable every complex modeling, rendering, rigging, animation, pipeline,.. and more.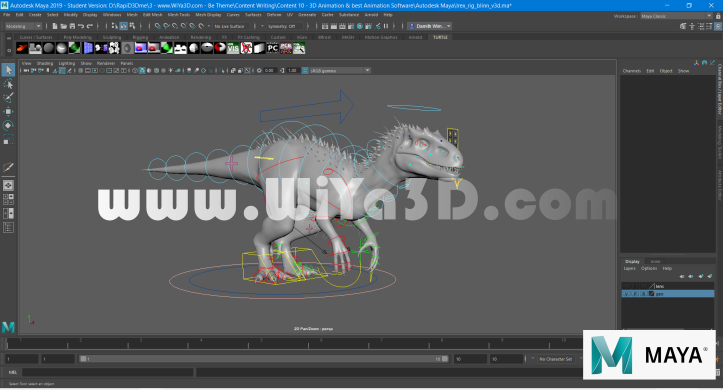 MAYA, Key Features Offering,
3D Modeling – Polygon Modeling, Sculpt/3D Artist
3D Animation –
3D Rendering
Dynamic & Effect – Hair, Fluid, Ocean, Cloth, Particle,..
Motion Graphics
Pipeline Integration
MAYA is great tool for your 3D Animation & 3D Artist work among the same kind software packages. However, it's bit complex in learning and familiarizing tons of tools/option. That sometimes, need to surf across all the option/feature bars to find the tools looking for. Software is pretty much expensive, but once you master you will not need to considering other 3D animation software packages.
Blender is free & open source 3D modeling & 3D animation software, which is suits for 3d artist, visual effect expert, animators, game developers, scientist, student & other professionals.Blender offer numerous tools to model the objects, which makes easy to create the design & model. If you are a enthusiastic about 3D art, then Blender is right software for you to go with. Although, it allow you to control incredibly complex video & animation projects.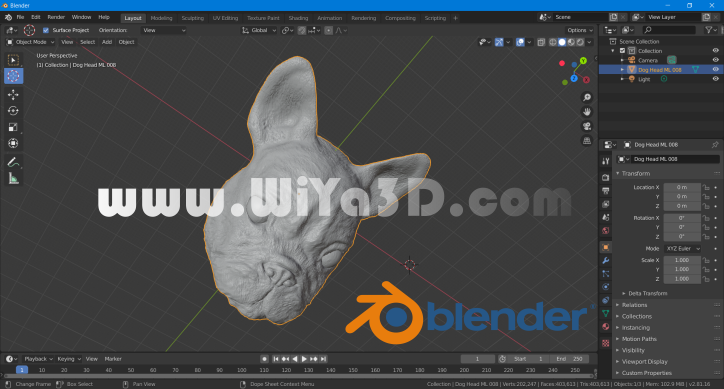 Blender, Key Features,
Design & 3D Modeling
Seamless Sculpting
3D Animation & Rigging
2D Animation & Motion Graphics
Rendering
Simulation – Smoke-Fire, Fluids, Particle, Rigid Body, Hair, Cloth
Video Editing
2D/3D Game Creation
Visual Effect
There is no pre-set library models in blender software and by default it's only has one rigging bone type , which makes bit hard for beginners. Yet blender offer wide range of tools/feature to video editing, & friendly interface. One other thing is, if you have encounter an bug there is no chance to rectify/develop the error until next Blender version out, since this is free software. This may be the one reason much industry don't use as standard software. Still the Blender is more powerful, 3D animator that can bring you to unimaginable outcomes.
3ds Max mainly targeting for development of games & visual design artist. Software has the powerful feature in 3D modeling, 3d animation. 3ds Max allow the designers to produce massive games with environments, buildings, breathtaking scenes with detailed character representation. Another thing is software create photorealistic images with it's real life camera settings & rendering features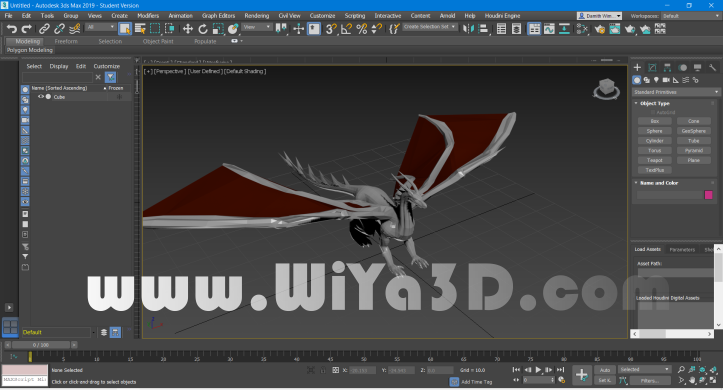 Autodesk 3ds Max, Key Features,
3D Modeling & Texturing
Mesh & Surface Modeling
3D Animation
Dynamic Simulation – Fluids, Particle, Hair
Rigging & Character Animation
3D Rendering
Motion Path
Visual Effect
3ds max consist of multiple animation controllers to store animation key setting & values for the animation. Which help to animating characters, mechanical assembly, product, complex motion and link them in order to animation process more simpler. 3ds Max has limited modeling features for area of mechanical design, and software usability is bit complex until learn & master it's tools comprehensively. Furthermore it's require to rely on add on/plugin when working with large scale projects, thus not suitable for large projects.
Houdini is also 3D art software that provide solution for 3D modeling, various 3d animation, simulation & rendering. The software widely used for specially visual effect (VFX) development. Although it's very powerful software in game development field. Key benefit of the software is handling the animation set-up, which use node-based approach, which every action stored in node and mapped node network pass the information throughout. Which makes the Houdini procedural work flow in working and it's amazing advantage in handling complex projects.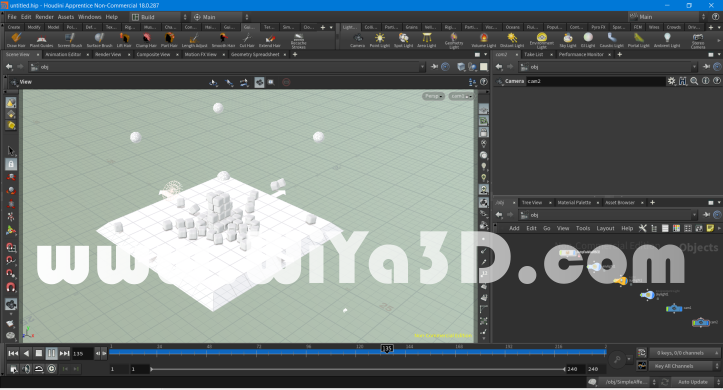 Houdini, Key Features,
3D Modeling – Procedural Modeling
Direct Modeling – Polygon, NURBS, Subdivision Surface Modeling
Simulation – Fire, Smoke, Fluids, Hair, Cloth, Sand, Snow
Particle Dynamic & Rigid Body Dynamic
Rigging & Character Animation
3D Rendering – Lighting, Shading
Motion Graphics
Visual Effect – Clouds, Volumes
In spit of other 3D packages, Houdini has framework to develop, user own tools to do specific 3D art work, once master the software in depth. For some users, it may not user friendly as start and modeling tools are not great in some instance along the modeling process. Also it's simulation time bit high and take little more extra powerful computers to run performance to archive. Yet, Houdini is leading VFX software, can get extraordinary result specially in dynamic simulation.
MODO is a 3D modeling, texturing, rendering & 3d Animation software, which can be used as starting point of creating 3D arts. It has some handy tool set, when modeling for hard, complex & organic surfaces. It is more flexible program, and fairly easy to learn, those who have basic understand & knowledge of 3D design & modeling. Most of the modeling tools are straightforward. MODO also has excellent tools for rendering.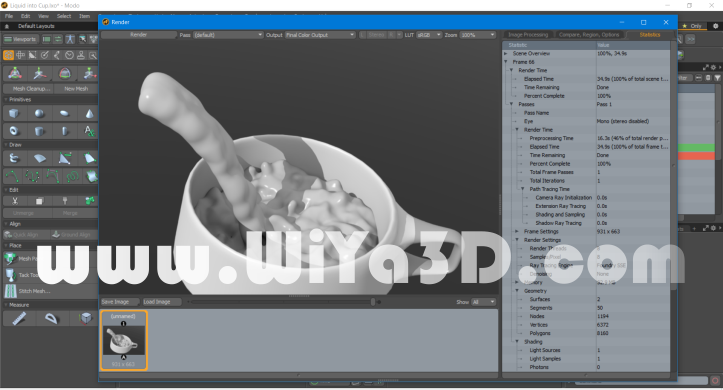 MODO, Key Features,
3D Modeling – Direct Modeling
Sculpting
Rendering
Shading
Rigging & Character Animation
Collaboration
Simulation – Hair, Fur
Visual Effect
Particle Dynamic Effect
MODO has some powerful simulation & dynamic features, that it has powerful transforming particle simulation system exceptional speed. MODO software price is bit high and working with large scale project will be difficult in handling with MODO software. And, it's simulation, dynamic & animation features & tools, has some limitation for complex 3D art projects.