Architecture is profession of artificial structural designing of thoughts of something and convert into space. Very early years, and still even in sometimes, the plans, layout drawings are drawn manually with pencil & drawing board set. But now a days computer is a part of architectural design along with specialized software. Therefore, development of Architectural Software allows the engineers, designers, architect & construction professional people to do drawing, communicate with their client and,design easily with great quality & controlling process. Also architectural software help to visualize & evaluate the artificial design in any size before actual building and furthermore selecting furniture, decoration, landscape modeling.
Main Branches of The Architectural
Residential Architectural Design

Commercial Architectural Design

Interior Design

Green & Sustainable Architectural Design

Landscape Design

Urban & Regional Planing

Industrial Architectural Design

Residential Architectural Design
There are number of Architectural software available, currently for those who are in architectural design & construction field. Each software has it's way of doing, modeling things and some are only for specific architectural task only. This will help you to select the Architectural Software package for your vision, skill and target outcome.
Autodesk Revit is a advanced Building Information Modeling (BIM) software with supporting architectural design, structural design, Mechanical, electrical, plumbing, fire fighting design, construction & planing and their coordination.The BIM process allow architectural engineer/designer & construction professional to share & collaborate the design planing, construction within the same model. And it's consist the 3D representation of physical structure and it's characteristics.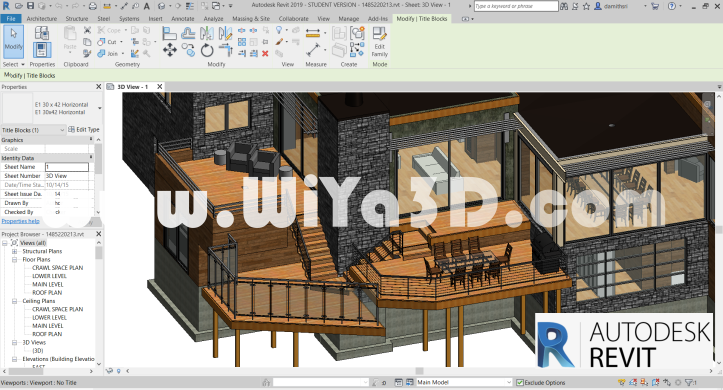 Revit Software Key Advantages & Features,
Architectural Design & Modeling

Structural Engineering

Parametric Modeling – Which help to edit the building element as needed in later.

MEP – Mechanical, Electrical, Plumbing, Fire, HVAC Design & Fabrication

Drafting – Detailed views & 2D Drawings

Point Clouds Tool – Redesign of existing construction, building, Environment,based on 3D scan data, which is from photogrammetry 3dscan

Building Information Modeling (BIM)

Structural Analysis

Energy analysis – Solar, Heating/Cooling

Visualizing & Rendering

Documentation & Schedule

Construction

Collaboration
Revit software comes with large number of architectural component, objects & element library to start modeling. In order to fully master the software of course it take sometimes depend on the skill level and it's good to have powerful computer to run Revit. It's rendering tools and rendering images not high quality, that may be require additional tool to obtain visual stunning render images. With collaboration feature it's help to user work with team members as well as other firm in order to coordinate the building design with architecture, engineers & construction firms. Software can be get Educational version for free, which is not for commercial use.
ArchiCAD is leading Architectural software in the industry, which is for architecture, engineers, designers & construction. It provide also provide the Building Information Modeling (BIM), support & solution for the variety of architectural industrial works. Software provide the architect to design & model the accurate & aesthetic building model, Construction details, complex steel, beam & columns, timber, composite beam and more for architectural design requirements.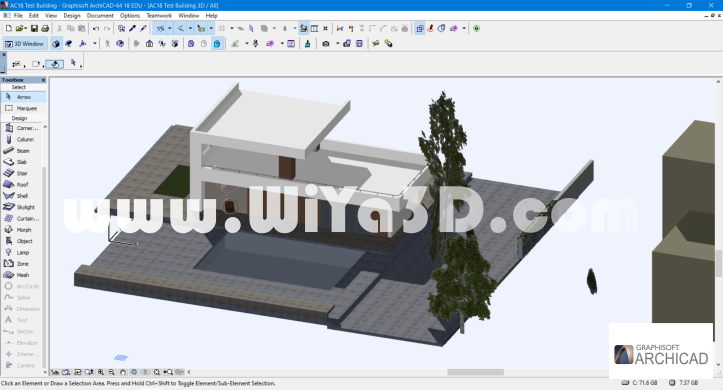 ArchiCAD, Key Advantages & Features,
Architectural Design & Modeling

Structural Engineering

Building Information Modeling (BIM)

Parametric Modeling & Objects

MEP – Mechanical, Electrical, Plumbing, Fire, HVAC Design & Fabrication

Drafting – Detailed views & 2D Drawings

Structural Analysis

Energy Analysis – Solar, Climate, Heating/Cooling

Visualizing

Rendering
ARCHICAD is fast modeling & design architect software, which allow the user to work in 2D or 3D screen representation. Software gives you more detailed control over each and every little things, which makes this as advantage and disadvantage. Because Revit software assume and automated some of the details that you want to do. ArchiCAD can be user friendly even for beginners and handle simple to complex projects for reasonable price tag.
Chief Architect is Home & Residential building 3D architectural software, which covers all the aspect in home, residential & light commercial building design. Tons of architect library – architect object, items, doors, windows, furniture, plants,.. help the user to model homes, interior designs, remodeling, landscaping, kitchen & baths and envisioned ideas and convert into space. Designer,when draw wall and place the architect objects, the Chief Architect generate the 3D model & material list Then within the powerful building tools help to create construction drawings, documents, elevation, frame plans & section details, which make the software comprehensive home design software.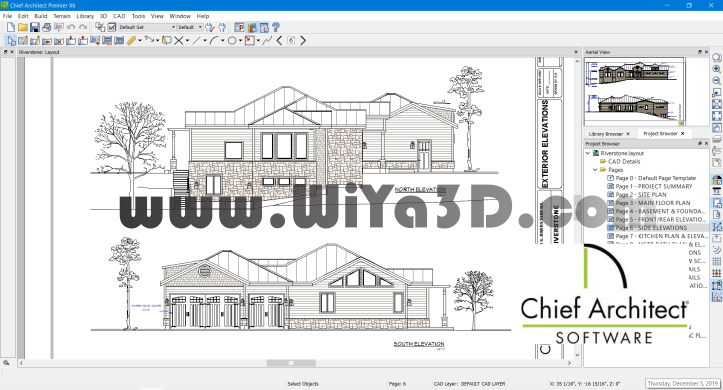 Chief Architect, Key Advantages & Features,
Architectural Design – Home, Residence &, Landscape, Light Commercial

2D Drawing

Lighting, Electrical & HVAC

Foundation

Terrain & Landscape

3D Rendering & Visualizing

Material List Costing
Chief Architect is go to home, residence & remodeling design software, easy for the designers. Although it has some steep learning curve for beginners to get into software and it's features & tools. When designing homes or things it's better to follow starting from wall, roof, door,… to make the software work flow easy. Chief Architect is the best consideration for those who are trying to design own home design, interior, landscape & visualize.
AutoCAD is widely available and industry most using software for technical drawings. AutoCAD Architecture is extended version of AutoCAD for civil engineers, architect designer and construction professionals. This architectural software help designing architectural design in all size of industrial task and help to create drawing and documentation. Software capable in creating & generating wall and other main architect object in 3D space, when working and draw in 2D space.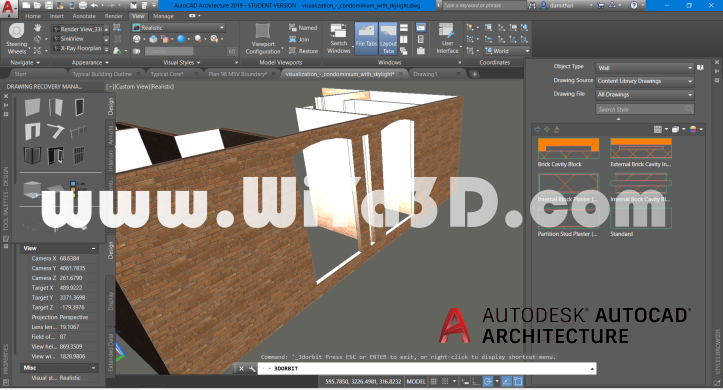 AutoCAD Architecture provide the every possible tools to create the professional drawing for designers, architect and engineers. Also software included large number of architect standards objects/parts library to make process faster. Main drawbacks of the AutoCAD Architecture is , it's not easy in 3D modeling, and learning the software might be difficult & complex for user in the beginning and take time to master. Once master the tools it's excellent program to work in any level of architectural projects. And it's doesn't have powerful rendering setup.
SketchUP is 3D modeling software, which provide the architectural platform desperately. Software is quite user friendly in making 3D models, however it's take some practice& learing to do more complex shapes modeling. SketchUP allow very early stage architectural design of construction in order to convert the design idea in to some visual model before going into detail modeling,planing and professional building & constructing. It's provides easy modeling, easy walk through, visualizing in space and 3D rendering for present to clients for initial concept design.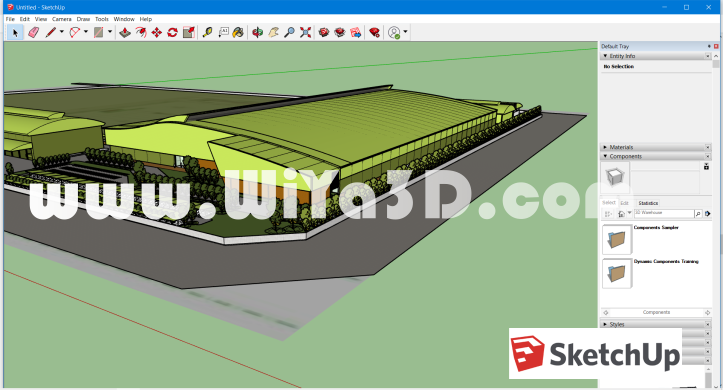 Due to simplicity of the software, it doesn't provide much architectural tools, library of objects or elements. SketchUP has very easy learning curve with fast modeling and no need powerful computer or graphics card to run. It's lacking in importing revit or some other cad model and exporting curve line-works and difficult to handle or model complex architect models.