3D Printing
3D Printing is process of producing 3d physical object based on computer digital model. 3D Printer commonly use Fused Deposition Modeling (FDM) under the additive manufacturing technique, which described in Rapid Prototyping technology.
3D printer, build object by adding one layer of material after another as you create an object similar to your digital model. Since the invention of 3D printing technology, manufacturers can produce even the most complex object using 3D printers, that can't even manufacture in usual production process.
How 3D Printer Print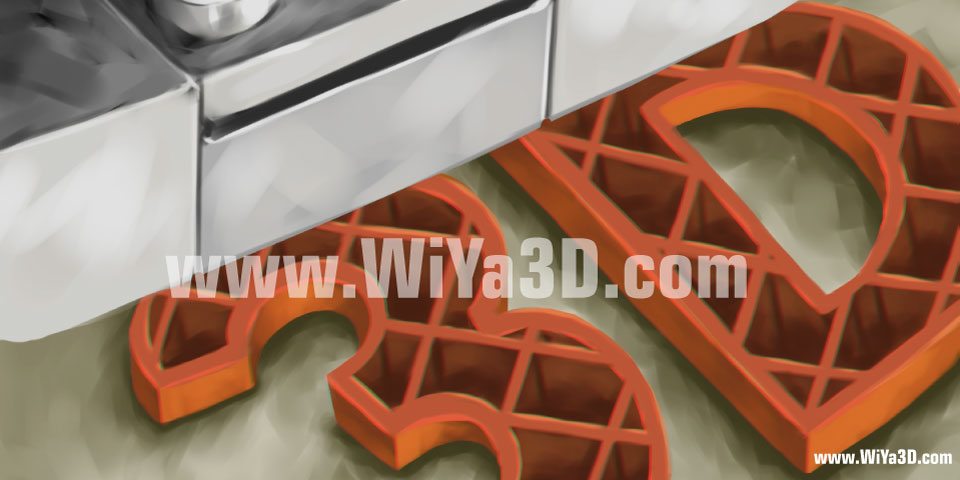 It all starts with you creating a 3D model using a haptic device, 3d scanner, or app. alternatively; you can download one from a 3D repository. Consequently, you need to divide the model into hundreds or thousands of horizontal layers, then proceed to print layer by layer adding material. this is how basically 3D printed works.
Imagine you're printing something on a paper. Now, consider re-printing the same thing over and over on the same page. Typically, you'll be building layers of ink every time you pass the page through the printer. The 3D printer basically works the same.
After prepare your model for 3D Printing on the PC with the help of slicing software, you need to connect the PC or feed the g-code file to a 3D printer. Consequently, the printer will develop all the slices of the object and put them together. It's like baking a slice of loaf individually before combining all the slices to form whole bread.
Factors To Consider Selecting 3D Printer
3D Printer Bed & Bed Size
When selecting a 3D printer, it's one of a important factor to consider about the 3D printing bed,because it's mainly determine the printing volume size that can maximum printing object. You, therefore, have to be keen when choosing one because printing beds vary based on thermal characteristics, prices, and sizes that can maximally print. 3D printing bed is a flat surface on which your object will be placed as printing continues. The flat surface provides a perfect bottom for your object as it should. Another function of a printing bed is to provide a bonding surface for extruded material during the printing process & start.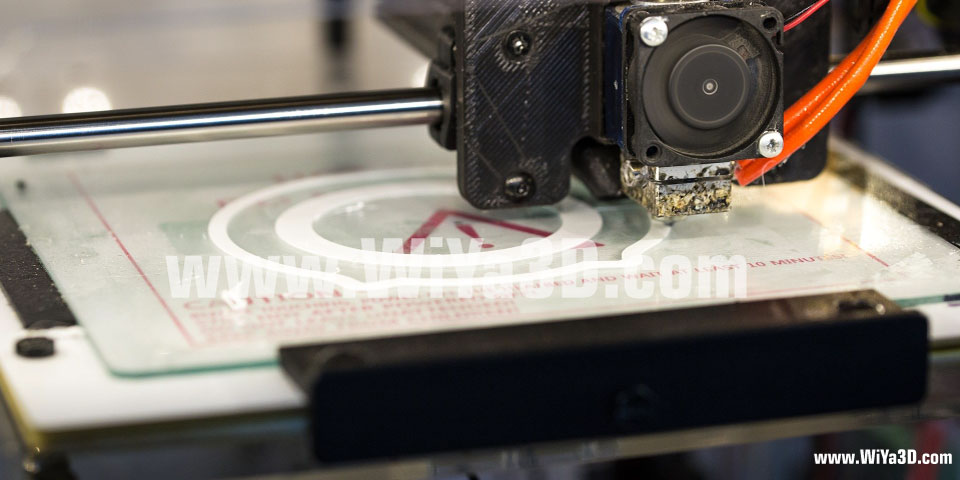 Notably, 3D printing involves printing one layer after another. So, you need a flat and adhesive surface on which the first layer will stick efficiently. Why? Imagine if the first layer were to move/loose to the side. The second layer will not fit perfectly on top of the first, and you might need to redo the whole printing procedure. However, with the right flat base like glass, you can work easy knowing your object will be formed as per your design.
Glass is an excellent material because it doesn't warp under the pressure of high temperatures. Undoubtedly, if the printing bed was to warp, the object will take the shape of the warp, which you certainly don't want that. There are other types of printing bed you can get in the market based on your needs and budget. However, ensure you choose the right bed with the help of a professional based on your budget, the size of your printer, and thermal characteristic.
Other factors you can consider when buying a printing bed is rigidity, hardness, and smooth surface. In that context, you can either have glass or metal and acrylic as long as it fits the above characteristics.
3D Printing Materials
Plastic is the most common material used in 3D printing. Why? Plastic comes in various colors, its firm and flexible and is relatively affordable. Here are some types of plastic you can choose to work with based on your preferences.
PLA, ABS, Nylon, TPU, PTEG, PVA, PC,..
Thermoplastic polyurethane is an elastic abrasion and oil-resistant material used to make flexible parts. It's used to make phone cases, footwear, power tool, and some medical devices.
3D Printing Resolution / Layer Height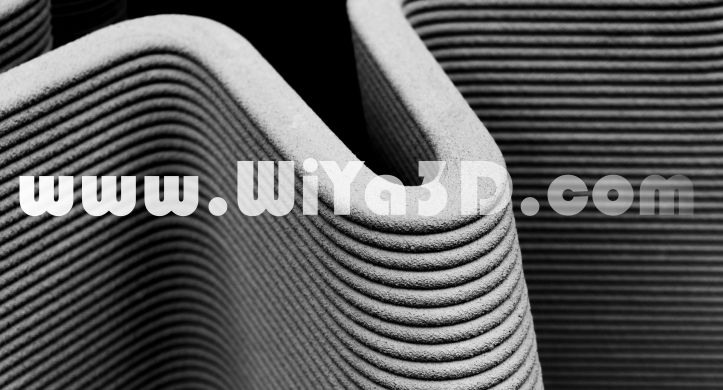 3D Printer construct the model layer of material by layer and minimum material layer height is called 3D Printer resolution. Generally, every common 3D print with good quality has the minimum layer height 0.1 mm, while for high end & costly 3d printers can go up to 0.01 mm layers heights. Usually, when 3d print object at lowest layer height will give the high quality out-put with high surface finishes.Lower the layer height for 3d printing makes the higher the 3d printing time.
User can select the 3d printing quality with slicing software, and with other setting it can estimate the printing time for selected job. If you are trying to get high quality outcome, surface finish for projects, it's better to go for low layer height selection capable 3d printers.
3D Model Slicing Software
At what point does your 3D design get sliced for the printer to produce slice after another? Undoubtedly, you'll need slicer software that acts as a middleman between your PC and 3D printer. The software divides your model into small flat layers and arranges then in a linear motion.
Here are some of the slicer software you can work with: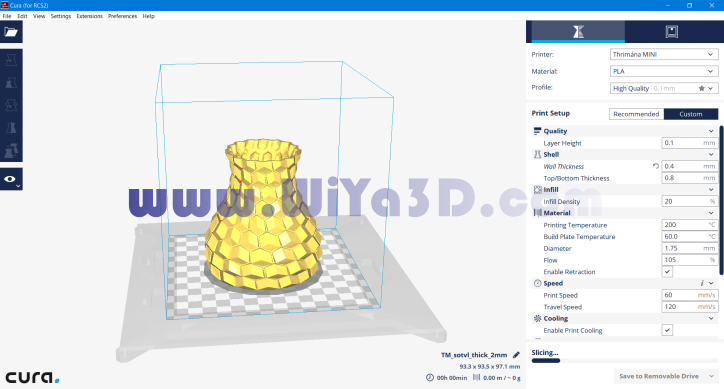 Ultimaker Cura is an open-source and free most popular slicing software in the world. Which is developed ideal for beginners to professionals. Cura is compatible with most 3D desktops available in the market or can be customized for specific 3D printer. It works with various 3D file formats such as STL, OBJ, 3MF, and X3D. , Cura allow custom setting in depth of controlling the 3D print setting
Slic3r also slicing software which gives 3D model into 3D printable g-code file. And Slic3r is open-source, free software that works with 3D CAD, such as STL& OBJ. Feature like advance in controlling & managing the 3D print tool path setting, print with multi extrudes, cooling control setting makes the Slic3r out stand among others.
Simplify3D is a pro user's software that is compatible with almost all 3D printers. And it's allow customize your support structure, support area, support size based on your model as you wish to take control the support generation. And provide advance pre -realistic simulation, which help to identify any issues and modify and get the perfect 3D print.
3D Printing Dimension Accuracy
When it comes to designing tools that need to fit together accurately, there is a need for dimensional accuracy. Several things impact the dimensional accuracy of an object. They include:
Materials: the material you choose will significantly influence the outcome of your object. Standard SLA resin has a better result as compared to flexible SLA resin.
Size of the object: A larger product has more room for inaccuracy than small objects.
Printer: some printers have higher accuracy than others. You should, therefore, be keen when buying one.
Warping or shrinkage: the process of 3D printing involves warping and shrinkage. So, as you design your object, you need to consider the warping and shrinkage possibility and implement ways of mitigating the imperfections.
For more accurate result, you have to go for other Rapid Prototyping technology (SLA, SLS,…) to get product withing the desired tolerance limit with great surface quality and finish.
Conclusion
3D Printing objects is an engaging process. Luckily, it's a fabulous process, and it leaves you with whichever object you design. In other words, your imagination is your limit when it comes to printing a 3D object. Nonetheless, you can only get the best experience when you choose the best printer, software, and material. All the best in your shopping and creation.